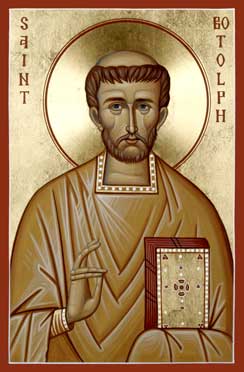 Copyright © Holy Transfiguration Monastery,
Brookline, MA.
Used by permission. All rights reserved.
Services for Holy Week and Easter
Palm Sunday 9th April
8.00am Eucharist
9.30am Eucharist + Palm Procession (meet at Village Green with greenery)
6.00pm Evensong
Monday 10th - Wednesday 12th April
7.30pm Eucharist with readings from St Matthew's Gospel
Maundy Thursday 13th April
7.00pm Eucharist in Church with stripping of the altar, followed by vigil in the Cloister until midnight
Good Friday 14th April
10.00am Walk of Witness: meet at 10am at Stanley Recreation Ground and process to Cathedral Square for service at 10.30am
10.30am Good Friday Service for young people and families, followed by hot cross buns
1.30pm Liturgy of the Day with Holy Communion
EASTER DAY 16th April
8.00am Traditional said Holy Communion
9.30am All Age Eucharist
6.00pm Evensong
Home
Welcome to the web site of the Parish Church of St. Botolph Longthorpe, which is situated at Thorpe Road, Longthorpe, Peterborough PE3 6LU.

At St Botolph's we seek, together with all other Christians, to be followers of Jesus Christ. Whether you have been a regular churchgoer or not, you are very welcome at any of our services, and we trust you will find peace, joy and friendship with us.
Parish Office
The Parish Office is open from 7.00pm to 8.00pm on Wednesdays for baptism and marriage applications.
Parish Nurse Office
Wednesdays 9.00am to 10.00am in the cloister at St Botolph's.
Easter
Why not come and see what is happening at St Botolph's this Easter?
Easter for some people means longer daylight hours and warmer days. Others may notice the signs of new growth in the flowers, plants and trees. The chocolate treats and the pictures of chicks in the shops say something is happening. Maybe you smile at the sound of children out and about that bit longer after school, playing and enjoying the freedom to be outdoors later.
Things are changing around us constantly but Easter Day gives us the opportunity to sit up and take notice of a time when things changed suddenly and dramatically. To spend time wondering and pondering on that one event which changed everything for everyone - and that includes you and me. Jesus is risen from the dead.
Nothing could ever be the same after that event and when we stop to think about that first Easter Day, maybe things will change for us in ways we cannot imagine.
Everyone is welcome at our services. Maybe this Easter is a time for you to come and see what changes are possible for you and the world around you?
Jackie Bullen, Vicar