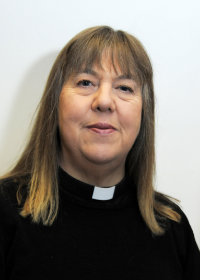 Rev. Jackie Bullen
Vicar
IN THE VICARAGE GARDEN
Saturday 13th July
2.00-4.00pm
As these events have been so popular over the past two years, I am looking forward to welcoming you again this year to spend some time in the vicarage garden, with Cream Teas and Cupcakes. I do hope that you are able to join us and please feel free to bring your family, friends and neighbours. There is no charge for these events, but there will be the opportunity to make donations to a charity should you wish to. If the weather is not in our favour, we will hold the event in church.
Jackie
Home
Welcome to the web site of the Parish Church of St. Botolph Longthorpe, which is situated at Thorpe Road, Longthorpe, Peterborough PE3 6LU.

At St Botolph's we seek, together with all other Christians, to be followers of Jesus Christ. Whether you have been a regular churchgoer or not, you are very welcome at any of our services, and we trust you will find peace, joy and friendship with us.
Vicar: The Rev. Jackie Bullen, The Vicarage, 315 Thorpe Road, Longthorpe, Peterborough PE3 6LU.
Tel: 01733 263016. Email: This email address is being protected from spambots. You need JavaScript enabled to view it.
Parish Nurse Office
Wednesdays 9.00am to 10.00am in the cloister at St Botolph's.
St Botolph's is committed to safeguarding the welfare of all young people and vulnerable adults.